We are proud to have worked with the following companies
Martech Polar provides global ice navigation services and polar shipping consultation that is backed by decades of experience in challenging Polar Regions. Our familiarity in challenging Polar Regions provides clients with the best way forward in ensuring safe and efficient operations.
Marine Exchange Alaska
Mistui O.S.K. Lines, LNG Carrier Division
Schuyler Line Navigation Company
Shell International Shipping and Tanker Company
Teekay Canadian Tankers Ltd
Teekay Shipping (Australia) Pty
Transport Canada
United States Coast Guard
Polar Ship Operations
A Practical  Guide
Captain Snider brings the full benefit of his extensive experience in polar shipping and as a highly qualified ice navigator to describe the human, technical, environmental and operational challenges of transiting polar seas. This new edition has been updated to take account of IMO's Polar Code, which came into force in 2017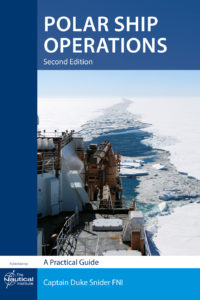 Captain Snider, Principal Consultant
Captain David (Duke) Snider, MM, BMS, FNI, FRGS
Captain Snider is the CEO and Principal Consultant of Martech Polar Consulting, Ltd. He is a Master Mariner and with 40 years at sea, operating vessels in a variety of ice regimes in the Arctic, Antarctic, Baltic, Great Lakes and Eastern North American waters.  He also has extensive tenure onboard coastal and offshore research vessels as Chief Officer and Master.  He retired from Canadian Coast Guard service as Regional Director Fleet Western Region in 2012.
World-wide ice pilotage and navigation services
Martech Polar Consulting Ltd.
563 Caselton Place
Victoria, BC Canada V8Z 7Y5